A FAMILY OWNED BUSINESS
Full of Beans Ltd, was one of the first Health Food Shops in Ireland.
We are an independent, family owned and family run business. We have two stores in Waterford City. Our George's Court store is in the city centre and has been serving the health needs of the people from the South East since 1980. Our second store is located in the Ardkeen Shopping Centre.
Our mission is to care and provide everything you need for your health and well-being. We are very proud of the heritage of the business and endeavour to maintain the reputation and ethos of Full of Beans. We have worked hard to grow the business as we have a personal interest in the holistic approach to health and care very passionately about good quality supplements and organic natural products.
We have an impressive range of herbs, vitamins, natural remedies and natural cosmetics. Our carefully chosen stock reflects our beliefs in good quality, highly absorbable and chemical free products.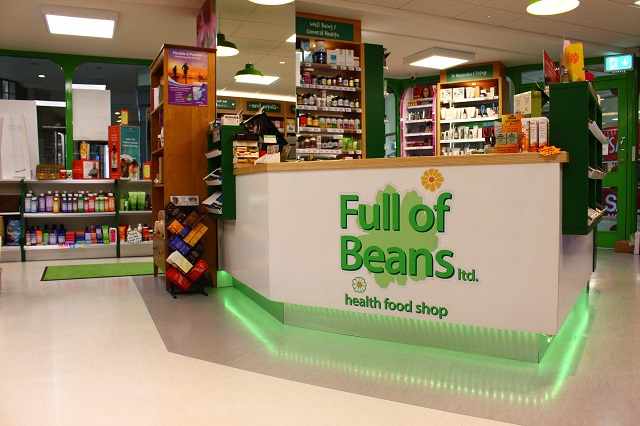 Our aim is to meet our customer's needs and provide an efficient customer service. We offer a great choice of products and our aim is to stay at the forefront of the changing face of the complementary health and beauty industry.
We believe our Health Food stores are the place to be, the place to find things and of course, the place to browse and discover new exciting remedies and cosmetics! Our stores are bright, dynamic, vibrant, and lend to a happy and pleasant shopping experience. Please avail of our fast and user-friendly website which should make your shopping experience as pleasant as the real thing!
We are dedicated to serving the needs of our customers on healthy living; discerning the differences in ingredients and knowing which supplements are assimilated best. Our staff are well trained and knowledgeable.